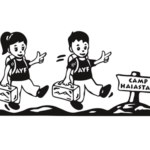 FRANKLIN, Mass. — Ahead of the highly-anticipated 2023 summer season, the Armenian Youth Federation (AYF) Camp Haiastan Board of Directors is thrilled to reveal Camp Haiastan's update to the iconic "tornig." This is the last step in the strategic initiative that was launched in May of 2022 with the refreshed logo of the formal camp logo and the recent announcement of the camp's newly developed brand and website.
The emblematic "tornig" icon will always be a key part of Camp Haiastan's branding, and we believe that these new enhancements are a visual commitment to ensure that the camp continues to broaden its awareness and ensure that our founding mission of inclusivity remains at the forefront of our work.
This positive step forward is another fulfillment of the Camp promise to "make it better than it was" and is a strong way to begin another fantastic summer at 722 Summer Street.
Help us continue our mission of promoting the preservation of Armenian culture through education, fellowship, and traditional camping that is affordable to all families.