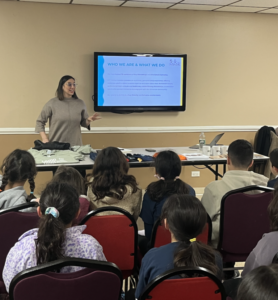 GLENVIEW, Ill. — AYF Camp Haiastan visited Chicago on Saturday and hosted an informational meeting at the Armenian Community Center.
AYF Camp Haiastan, the first Armenian camp in the United States, has been serving Armenian youth for over 70 years as the premier Armenian camping experience for youth ages 5 – 16 years old.
Executive director Kenar Charchaflian and Board of Directors member Hagop Soulakian addressed the Taniel Varoujan Armenian school students and the Chicago Homenetmen Scouts. The audience also included parents and members of the community.
The presentation described a day in the life of a camper at Camp Haiastan, starting with morning exercises led by 2022 staff members Areni Artinian and Aleen Soulakian. The children were eagerly asking questions and getting excited about the upcoming season.
AYF Camp Haiastan will be announcing future community visits around the region.
This article was original published on The Armenian Weekly.
Help us continue our mission of promoting the preservation of Armenian culture through education, fellowship, and traditional camping that is affordable to all families.